For the FemTech Textile button, we use amazing work by Paul Strohmeier, and adjust it for our use. The important part is that we need to construct a textile button, which fits to the bear's right arm (seen from the back) and make pressure on the paw sent signals to the Thing, which then acts appropriately (as we coded earlier).
Also, it is important that the different wires (conductive threat) are not touching each other or getting crossed when we are sewn from the Thing to the textile bottom on the bear's arm.
To do so you need to cut out the below template (in paper) and then use these to cut out appropriate pieces of fabric.
You need:
1) Ordinary fabric
2) Conductive fabric
3) Smart fabric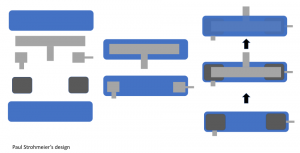 The Textile button is replacing our hardware from hard material to soft material.